Emerging global trends in leather and fashion
Trends have to be predicted taking into consideration possible drastic changes. Fashion consumers are becoming more conscious of the environment. They prefer eco-friendly material, conservative use of resources, reduced emission of pollutants, greater social commitment and fair treatment of employees in production facilities.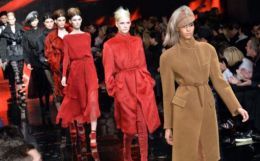 The presence of a large number of players in the sector has intensified the competition to garner a larger chunk of the market share of this lucrative industry. On the demand front, consumers are rapidly aligning towards new designs and innovative leather offerings to ensure they are in sync with changing fashion trends. Another factor that needs to be taken into account is the rise of the BRICS (Brazil, Russia, India, China and South Africa) economies. Their dominant position in the labour-intensive textile and leather industries makes it difficult for other countries to match them.
Owing to high demand, the leather goods industry is on a growth spree. Forecasts are, this vertical will grow at a CAGR of 3.4 percent over the next five years and will touch US$ 91.2 billion by 2018.
The softest, most luxurious leather comes from the skin of newborn or even unborn calves. Sourcing this leather is unethical. Though it is a very durable and flexible material, the process of tanning leather is incredibly toxic. Most of it is chrome tanned, which results in carcinogenic chromium (VI) being pumped into the water table.
In many countries, quality standards are very high. Leather manufactures are trying to produce more sustainable products by prohibiting harmful dyes and chemicals. Unfortunately, only a few customers are willing to pay more for these 'greener' products. One pioneer of this trend is renowned fashion designer, Stella McCartney, who is using eco-friendly material for her shoes and handbags.
Innovation in luggage and leather goods with new technologies and design is the major driving force for the industry. LVMH Moet Hennessy Louis Vuitton SA, Coach, Inc., Kering SA, Prada S.p.A, and Hermes International SCA are some of the major manufacturers of the luggage and leather goods industry.
Professors at the University of Delaware chemical department are developing artificial eco-leather that can be used to make shoes, handbags and other fashion accessories. Richard Wool, director of University of Delaware, said at the 17th Annual Green Chemistry and Engineering Conference in Bethesda, "We are basically taking aerospace engineering of highly complex materials and using it to make wearable items that offer a much better design for consumers, than the original design from an animal would be. And it is all green and sustainable."