Everything We Know About Meghan And Harry's Baby So Far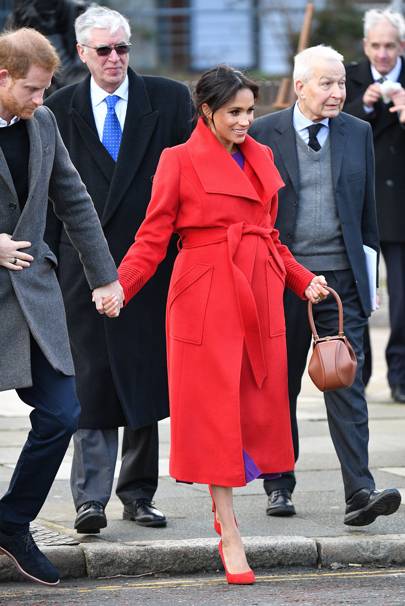 When is Meghan and Harry's baby due?
Meghan revealed that she was six months pregnant as she chatted to well-wishers in Birkenhead during her and Prince Harry's first joint engagement of the year on January 14. The royal baby will thus be born in April, and could be close to Prince Louis's birthday, on April 23, or the Queen's birthday, on April 21.
Kensington Palace announced the launch of @sussexroyal, the official Instagram account of Meghan and Harry, and on April 5, the couple made the following announcement regarding presents for the baby: "In lieu of sending gifts, the couple has long planned to encourage members of the public to make donations to select charities for children and parents in need." They went on to name the organisations and thank those who had already made a donation.
It had been speculated that Meghan might choose to give birth at Frimley Park Hospital in Surrey, which is closer to the couple's new home of Frogmore Cottage, rather than the Lindo Wing – where the Duke and Duchess of Cambridge have welcomed all three of their children. Staff at the Lindo Wing have reportedly been advised not to take holiday in the spring, which has led to reports that the couple plan to have the baby there, however.
The news was first announced as the couple arrived in Sydney for their inaugural foreign tour together in October. Speculation around a royal baby began when Meghan's tour schedule specified that she would not climb over the Sydney Harbour Bridge as planned. The rumour mill went into overdrive, however, when the former Suits star attended the wedding of Princess Eugenie and Jack Brooksbank wearing a Givenchy dress coat, which she chose not to remove on the day. It subsequently reached fever pitch after she was photographed leaving Sydney airport carrying two folders in front of her stomach.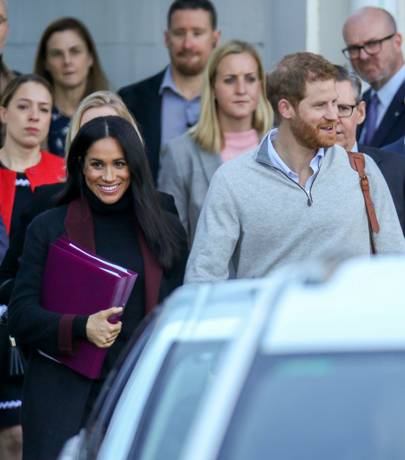 As the official statement announcing Meghan and Harry's baby set social media alight, Kensington Palace said that "The Queen, Duke of Edinburgh, Prince of Wales, Duchess of Cornwall and Duke and Duchess of Cambridge [were] delighted for the couple and were able to congratulate them at the wedding [of Princess Eugenie] in person." In addition, Meghan's mother, Doria Ragland, was said to be "very happy about the lovely news and she looks forward to welcoming her first grandchild."
Meghan and Harry sent out their own message of thanks to supporters of the family, too. "Their Royal Highnesses have appreciated all of the support they have received from people around the world since their wedding in May and are delighted to be able to share this happy news with the public," the Instagram message read.
What sex is Meghan and Harry's baby?
During the January 14 visit to Birkenhead, both Harry and Meghan told workers at Number 7, a cafe and supermarket which offers discounted foods to help those on lower incomes live within their means, that they did not know whether the baby would be a boy or a girl. "We're keeping it a surprise – whichever way we'll be thrilled with the outcome," the Duchess said.
After Meghan's baby shower in New York in February, which was attended by Jessica Mulroney, Amal Clooney and Serena Williams, her make-up artist Daniel Martin posted a picture of stork-shaped cookies iced in pale green and white icing. Anyone hoping for details that might have given away the sex of the baby would have thus been left disappointed. Meghan also chose not to unwrap any gifts, so that she could wait until at home with Harry, according to Gayle King, who was also present at the Mark Hotel celebration.
What will Harry and Meghan call their baby?
It's likely that Harry and Meghan will not reveal the sex of the baby until the day of its birth, as per the Duke and Duchess of Cambridge, but that hasn't stopped bookmakers from placing bets on prospective names. Gambling companies were quick to suggest that a baby girl would likely be called Diana after Harry's late mother, Diana, Princess of Wales. Others asserted that Victoria, Alice and Alexander were drawing interest from punters. But, Meghan has broken away from royal tradition on a handful of occasions – from the sheer Ralph & Russo dress she wore in the engagement portraits to the flavour of the couple's wedding cake – so, a regal name might not be on the cards at all. Only time will tell.
Where will the royal baby be in the line of succession?
The baby will be seventh in the line to the throne – behind Prince Charles, Prince of Wales; Prince William, Duke of Cambridge; Prince George of Cambridge; Princess Charlotte of Cambridge; Prince Louis of Cambridge; Prince Harry, Duke of Sussex. The new arrival will push Prince Andrew, Duke of York; Princesses Beatrice and Eugenie of York to eighth, ninth and tenth in line to the throne respectively.
What will the royal baby's title be?
Harry and Meghan's baby will not be a prince or princess unless the Queen steps in. Harry's first son will become Earl of Dumbarton – one of the subsidiary titles bequeathed to him by the Queen on his wedding. A daughter would be Lady Mountbatten-Windsor. Any subsequent sons would be dubbed Lord Mounbatten-Windsor.
When will Meghan return from maternity leave?
One of the first engagements in the new mother's diary will be in October, according to Vanity Fair. Meghan and Harry will attend the annual summit for One Young World, a global forum supporting 10,000 young leaders from around the world. Meghan's link to the organisation dates back to before her royal initiation. She addressed delegates at the 2014 Dublin summit and at the 2016 Ottawa summit, but it is not yet known whether she will do the same in London. Her four royal patronages mean that she has a lot on her agenda for the year ahead already.